With all the wind it looked liked the conditions were going to be pretty hard,we started of at Bynoe fishing for 5 days on the making tides,at least the water tempeture still kicked around the 26 deg so a the fish should be reasonably active.
Steve soon discovered that Threadfin swallow flies and spit them out faster then you can strike,
nearly convincing himself that they might be a challenge that he wasn't going to achieve, but he did end up nailing a few, we had at times great sight fishing catching quite a few Barra and Blue Threadfin, the odd King Threadfin and the usual array of Queenies and Trevally.
Dottie joined us for a number of days which was great,Steve was pretty laid back and we all managed to catch stuff, Dottie got a great Queenieon the flats with numerous Barra as well. We did a lot of bullshitting, sledging and trying different things.
One morning I told Steve that Lenny Sibio and I had encountered some
Permit
, so the three of us headed out to find them. The weather was blowing really hard when we got there so just cruised slowly looking around.
Steve spotted the first one
he reckoned about 25lb but we couldn't get a shot in the waves, you wouldn't believe it we then encountered a
number of pods
of them possibly we saw up to 50 in total unfortunately whilst we got flies to them other then the odd turn to look they ignored us.
Steve was responsible for Del Brown's 513 Permit in Florida Keyes so I now have a fair idea what needs to be done, we tried to get back but the conditions wouldn't allow it, I'm definitely going to keep at it though.
We headed down to Corroboree, looking for Saratoga, a brief respite from the wind at first light managing to catch a dozen before 11am, all were caught amongst the sticks and lilys, we didn't go deep at all preferring to experience the crash tackles in the shallows. Dottie came along and as usual took a couple of hrs to extract 6 out of some of the most inaccessible parts of the lilys.
The Milkfish were next on the agenda, a loaf of bread plus half of my lunch roll,(Steve wouldn't give his up) we hooked one which ran straight in to the rocks, then hooked another 3 which all came off.
Thats unusual so I blamed him and put that back on the bucket list.
We will be at the Ski Club this afternoon at 5.30 pm,if you can make it come and say hello.
Cheers Graeme
Permit Fly Patterns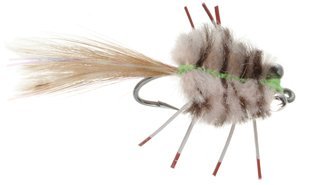 PERMIT FLY PATTERNS SEEM TO ALL COME FROM THE SAME PRECISE BLUE PRINT THAT DICTATES A HEAVILY WEIGHTED, RUBBER LEGGED, CRAB PATTERN. THIS ALL BEGAN WITH THE PATTERN PICTURED HERE; ORIGINALLY CALLED DEL'S MERKIN IT WAS CREATED BY DEL BROWN AND GUIDE STEVE HUFF. THIS FLY IS MORE THAN THE FIRST EFFECTIVE PATTERN FOR PERMIT, BUT RATHER IT WAS THE START OF A NEW AND DIFFERENT TECHNIQUE OF PRESENTING THE FLY.